Master These Useful Dog Tricks for National Train Your Dog Month
January 5, 2021
5 min read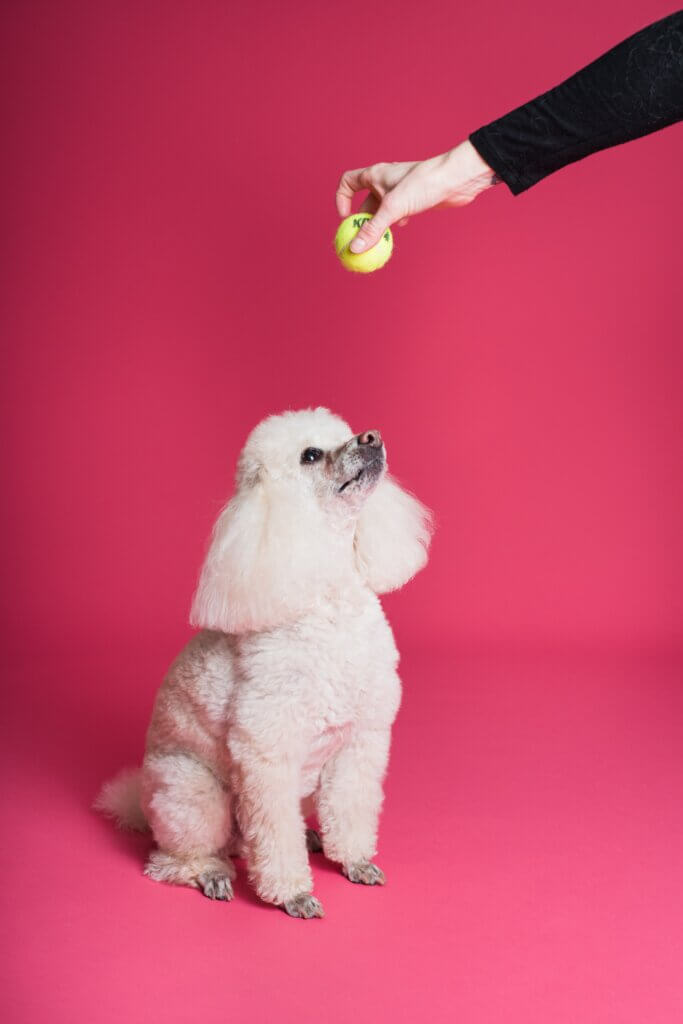 It's January, which means it is time to start making new year's resolutions. For dog owners, this is the perfect time to resolve to finally train your four-legged family member and teach them some dog tricks. You may have heard the saying, "You can't teach an old dog new tricks." Well, we're here to tell you that saying is false. You can teach your fur baby dog tricks – no matter how old or young he is.  
The month of January is designated National Train Your Dog Month. The Association of Professional Dog Trainers started this special month in January 2010. According to their website, "The APDT thought it was long overdue to dedicate a month to bringing awareness to the importance of socialization and training, and most of all, to inform the public that training your dog can be easy and fun!"
The APDT chose January since so many pets are purchased or adopted during the holidays. Unfortunately, many of these holiday pets find themselves in shelters just a few months later. New dog owners may grow frustrated by their dogs' disobedience or bad habits, and disgruntled owners abandon them or turn them into a shelter.
Instead, dog owners can make their lives easier and their homes more welcoming to new four-legged family members by resolving to teach them these useful dog tricks.
Strengthen Your Bond
Not only will training your dog make your life easier, but it will also strengthen the bond you share. Dog Time explains, "[Dogs] will relish the opportunity to bask in your undivided attention as you work toward a common goal together. Time spent training is time spent bonding, making priceless memories, and building a strong relationship between you and your dog. Isn't that what having a dog is all about?"
As you work to teach your dog how to follow basic obedience commands, you get to reward his good behavior. Each clap, belly rub, and back scratch will delight your dog. Like a proud parent, you will also enjoy watching him learn and grow – and showing off his dog tricks when friends and family come to visit.
Tips for Teaching Dog Tricks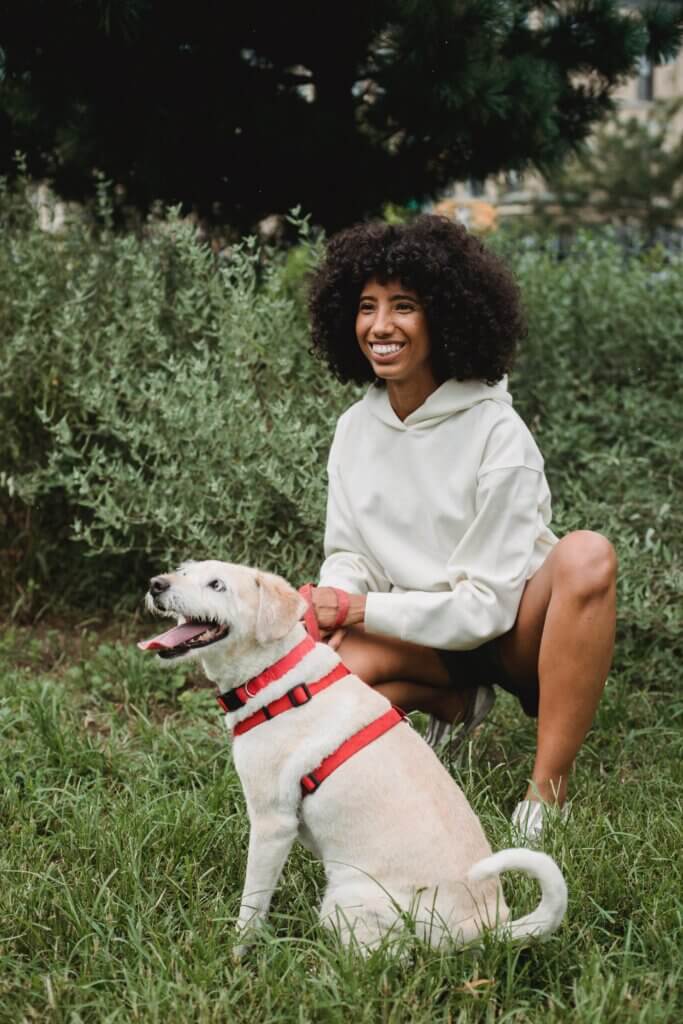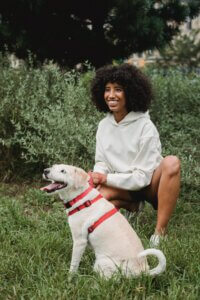 During National Train Your Dog Month, plan to spend a small bit of time every day training your dog. For instance, VCA Hospitals suggests, "You do not necessarily need to train in a set session daily. Rather, integrate these tasks throughout the day. A goal to strive for is at least 15 minutes of training every day. These can be short 5-minute sessions spread throughout the day."
Likewise, you want your dog to learn to follow commands throughout your home and when given by other family members. Therefore, look for opportunities for other family members to train your pup and practice commands in different rooms of the home.
There are many different dog training methods, but positive reinforcement is pretty consistent across the board. The American Kennel Club explains, "The foundation of training should be based on positive reinforcement. Positive reinforcement is the process of giving a dog (or person!) a reward to encourage the behavior you want, like getting a paycheck for going to work." However, what you use for positive reinforcement depends on your dog. For example, some dogs respond well to training treats, whereas other dogs respond best to lavish praise. Take note of what type of positive reinforcement works best for your pup and use it for teaching new dog tricks.
Master These Obedience Basics
During National Train Your Dog Month, aim to teach your dog any of the following obedience commands that he does not already know. If you are not sure how to teach your dog to follow these obedience commands, visit the National Train Your Dog Month website for videos and other helpful resources.
Sit
Down
Stay
Wait
Come
Walk on a Leash
Impress Guests with These Dog Tricks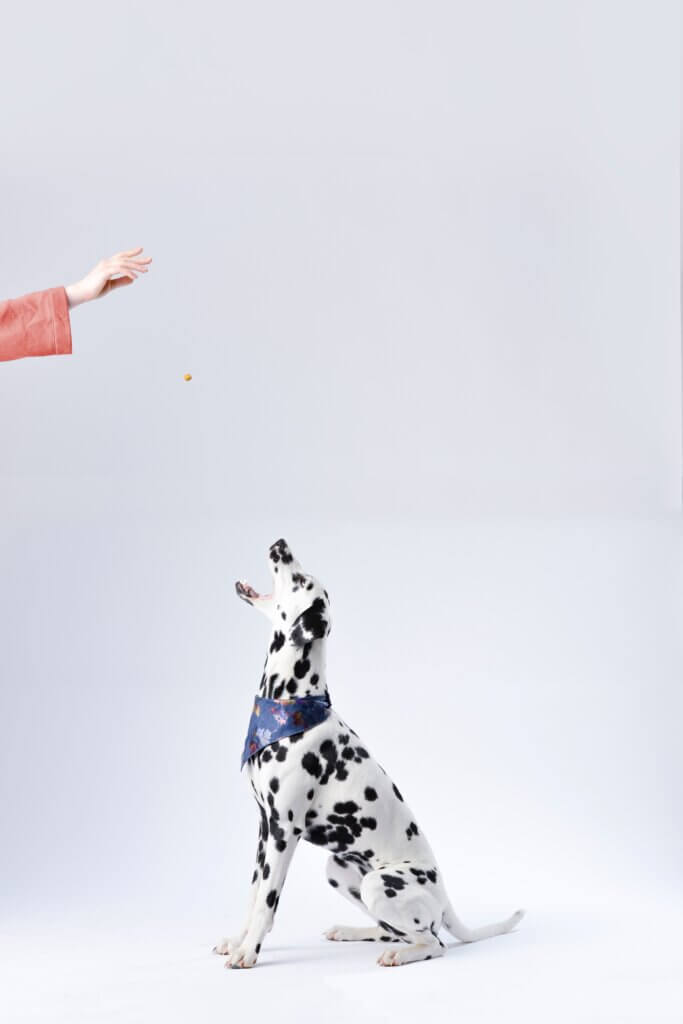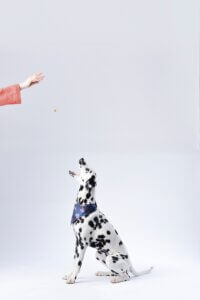 In addition to training your dog to follow basic commands, take some time to teach fun dog tricks. These are always crowd-pleasers, and your pup will lap up all the extra attention he receives in response to showing off his circus tricks. AKC and Dog Time have videos that demonstrate how to teach these popular tricks.
Shake
Peek a Boo
Fetch
Roll Over
If All Else Fails…
You want to live harmoniously with your dog. The best way to make this happen is to make sure he is trained properly. If you struggle with training your dog, get help from professionals. There is nothing wrong with seeking outside help! It is much preferable to giving your dog up. In addition to pet stores that offer basic obedience training for dogs and their owners, you can also find qualified professional pet trainers in your area. Visit the APDT's Trainer Search to find professional pet trainers in your zip code.
Once your dog is house trained and has mastered using the bathroom outdoors, it's time to scoop the poop. When the time comes, book Super Scoopers to remove their doody so you can continue playing fetch in the backyard!