Dos and Don'ts of Dog Beaches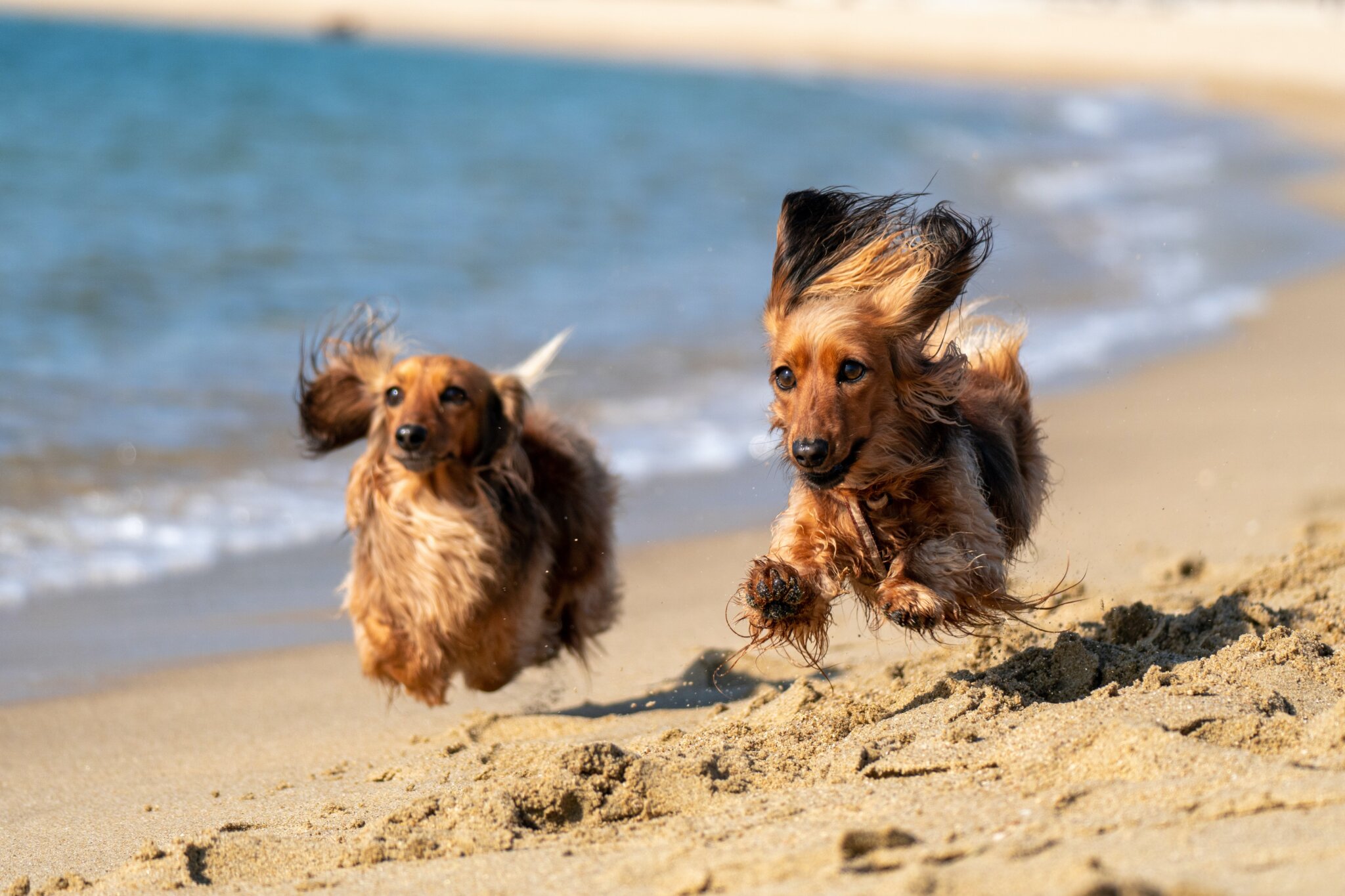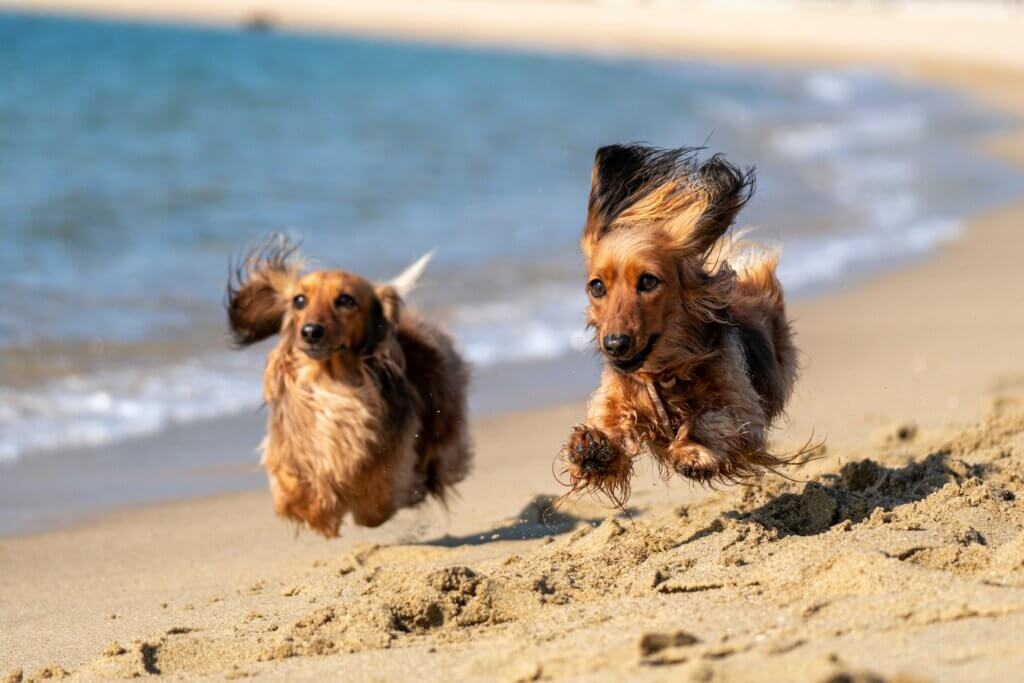 Dogs love going to the beach as much as their human companions do. Sadly, dogs aren't welcome at every beach. If you take your four-legged friend to a beach that doesn't allow dogs, you'll face a big fine. The good news is there are tons of dog beaches across the United States that will allow you and your pup to have some fun in the sun.
Even so, just like there is etiquette to follow when going to a dog park, you also want to be aware of the dos and don'ts of dog beaches.
Do Know the Difference Between Dog Beaches and Dog-Friendly Beaches
The first thing to know is there is a difference between dog-friendly beaches and dog beaches.
Dog-friendly beaches welcome dogs, but they tend to have strict rules, such as leash requirements.
In contrast, dog beaches are like dog parks where dogs are allowed to run along the beach and into the water carefree.
Don't Forget the Essentials
Just like you pack your essentials in a beach bag, your dog needs her own beach bag. Be sure to pack the following:
Extra water
A plastic water dish
Doggy doo bags
Towels
Waterproof leash and collar
Do Teach Verbal Commands
Unlike a fenced dog park, dog beaches give dogs many chances to escape their owners and get into mischief.
That's why it is so important for your dog to know and obey basic commands, such as Come, Stay, Sit, and Leave It.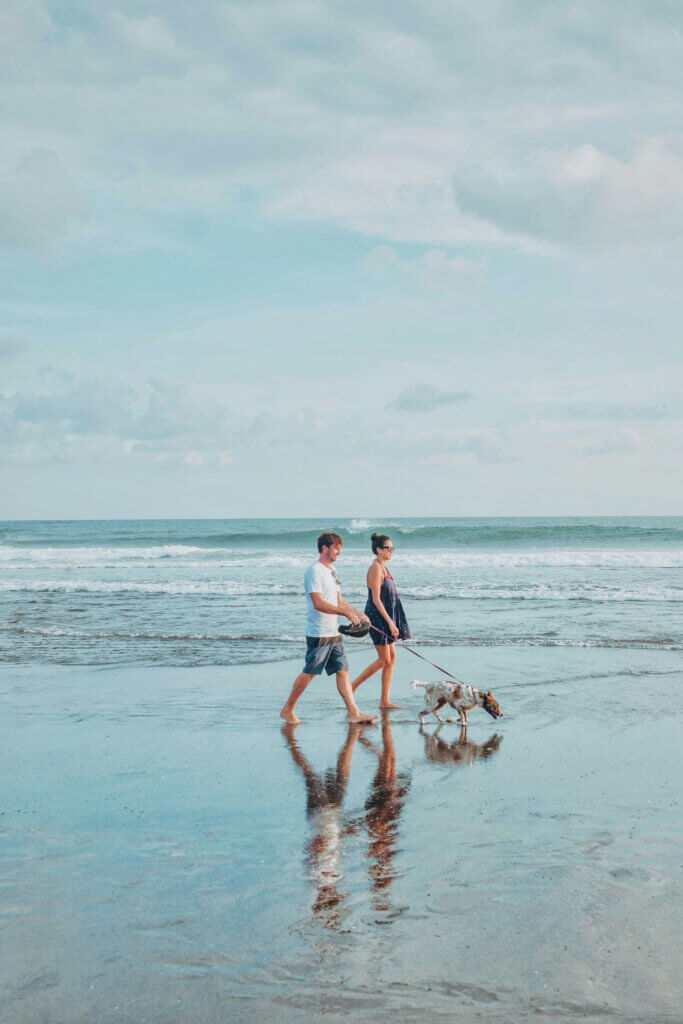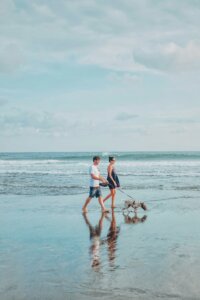 Don't Let Your Dog Act Aggressively
True dog beaches (where leashes aren't required) operate like dog parks, which means dogs can play with one another.
However, if your dog stops playing and starts fighting aggressively, you must intervene and leave.
Do Know the Beach Rules
Before you head to any dog beaches, it is important to look up the rules.
Each beach operates according to its own rules, such as only allowing dogs on the beach during certain hours of the day or requiring leashes of certain lengths.
Knowing and following the rules will keep you from getting fined and keep the beach dog-friendly.
Don't Let Your Dog Drink the Water
If you want to deal with a sick dog, let him lap up the salt water.
Instead, make sure you pack plenty of fresh water to give your dog.
It is important for your dog to stay hydrated in the heat of the summer, but the salt water won't help.
Do Rinse at the End of the Day
Just like you feel like you need to wash the salt and sand off your body at the end of your beach day, so does your dog.
Head to the outdoor shower stations to rinse him off.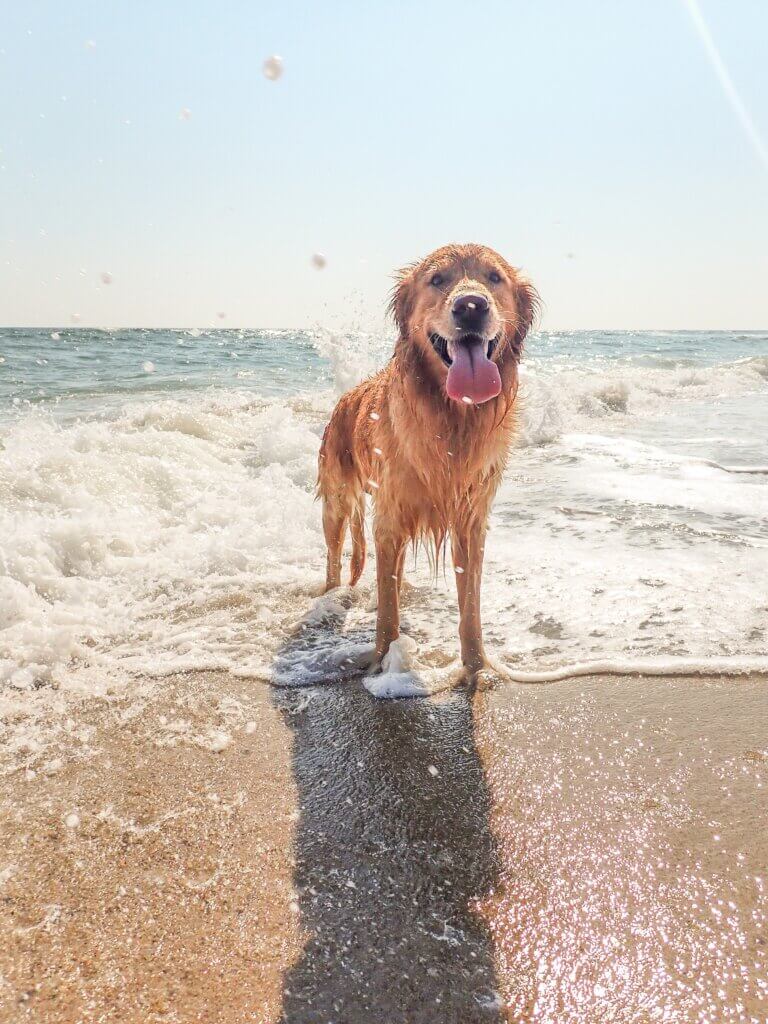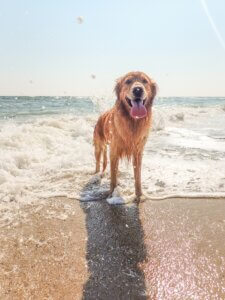 Don't Leave Dog Doody
A quick way to ruin dog beaches for everyone is to not clean up after your pet.
The UW School of Marine and Environmental Affairs explains, "In just a few days, 100 dogs can produce enough bacteria that, if left on the ground, could wash into the ocean and temporarily close a bay, and all watershed areas within a 20-mile radius, to fishing and swimming! […] In Seattle waters, about 90% of harmful bacteria can be attributed more broadly to animals, and between 20% and 30% can be directly blamed on dogs (or more appropriately, on the dog owners who neglect to pick up poo)."
Don't be this person.
Take your pooper scooper with you and scoop the poop.
At home, pass the dirty job to Super Scoopers.
Do Leave the Beach How You Found It
In addition to protecting the beach from bacteria by scooping your dog's poop, you also want to make sure your dog doesn't destroy anything.
Don't allow your dog to run through the dunes or hurt wildlife.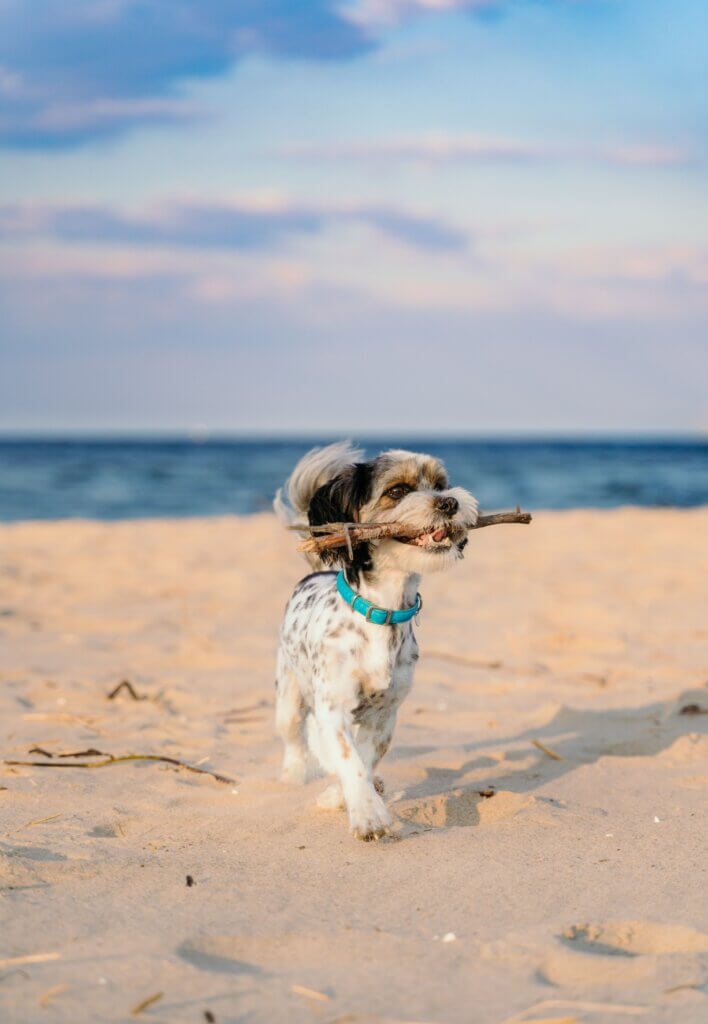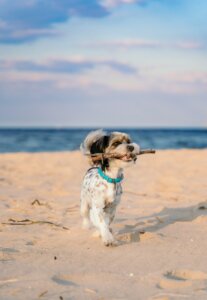 Don't Overdo It
With as much fun as you'll be having, it can be easy to lose track of time.
But you shouldn't.
Your dog will likely be using more energy than usual – and in the summer heat.
Instead, try to limit your dog's sun exposure and minimize the amount of time you are there.
[Related Read: How to Cool Down a Dog – 10 Ways to Help Dogs Beat the Heat]
Do Watch for Hazards
Whether your dog is on a leash or free-roaming, be on the lookout for hazards.
Dogs can step on sharp seashells or broken glass.
They may try to pick up dangerous left behind trash, such as aluminum cans, with their mouths.
Or they may try to play with a jellyfish.
Don't Let Your Dog Visit Others
While you would expect everyone who visits dog beaches to love dogs, this isn't always the case.
You don't want to allow your dog to intrude on other beach visitors who may complain.
If complaints about dogs add up, city officials may stop allowing dogs to visit their beaches. By following the rules, watching out for your pet's safety and that of others, you'll ensure an enjoyable experience for you and your pup.