12 Tips for Traveling with Your Dog This Holiday Season
November 28, 2022
4 min read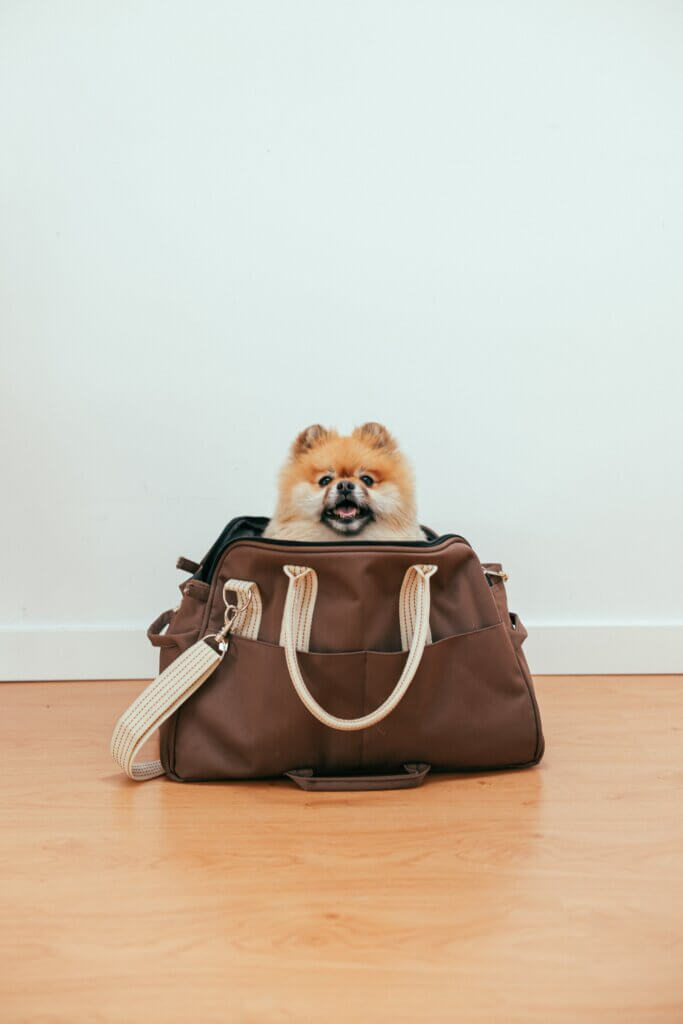 Are you planning on traveling with your dog over Thanksgiving or Christmas? You're not alone!
According to a survey by Rover found 61% of dog owners drive long distances so their dog can come along, and 61% of dog owners get a dog-friendly hotel for the holidays.
Whether this is your first or your twentieth time traveling with your dog, these tips will ensure you and your fur baby have a stress-free trip.
Keep Identification and Records Up to Date
Before you head out of town, it is imperative that you make sure all your pup's identification records and vaccinations are up to date.
It is also wise to make sure your dog's microchipped information is still correct.
While you are at it, digitize your dog's important documents (such as latest vaccination records) and store them using a cloud service.
Don't Forget These Must-Have Supplies
Make sure you have all the following essentials when traveling with your dog.
Crate
Blanket
Dog bed (if it fits)
Food
Collapsible food and water dish
Toys
Leash
First aid kit
Doo doo bags
Plan for Accidents
In addition to the essentials, you should also plan for accidents. Even the most well-trained dog may have an accident when traveling and out of their normal routine. Keep cleaning supplies and wet wipes on hand.
Ask for a Ground-Level Room
When traveling with your dog this holiday season, ask for a ground-level room if you are staying in a pet-friendly hotel. This will make potty breaks much easier for you and your dog.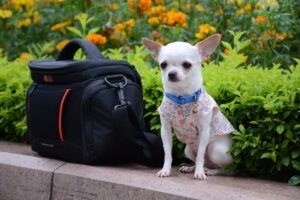 Pack a Doggy Suitcase
Remember earlier when I mentioned taking all the essentials with you? It's a good idea to get your dog his own suitcase. It'll keep all he needs together and help you be more mindful when you are packing.
Talk to Your Vet About Medication
If you are worried about traveling with your dog due to her anxiety or car sickness issues, speak with your veterinarian. There are many safe, natural products you can try to ease both issues, such as calming chews and thunder shirts.
[Related Read: Recognize the Signs of Anxiety in Dogs for Holiday Traveling]
Stick to Your Dog's Routine
As much as possible, stick to your dog's normal routine. Take him out to the bathroom around the same times you would at home. Feed him at the same time (and feed him the same food). Send him to bed at his regular bedtime.
Get In Some Exercise Before You Leave
Before traveling with your dogs, give them lots of opportunities to exercise. The goal is to wear them out, so they rest easily in the car on your journey.
Take Breaks
Just like you need to stop for potty breaks on a road trip, so does your dog. Take breaks every so often to allow your dog to get up and move, use the restroom, and drink some water.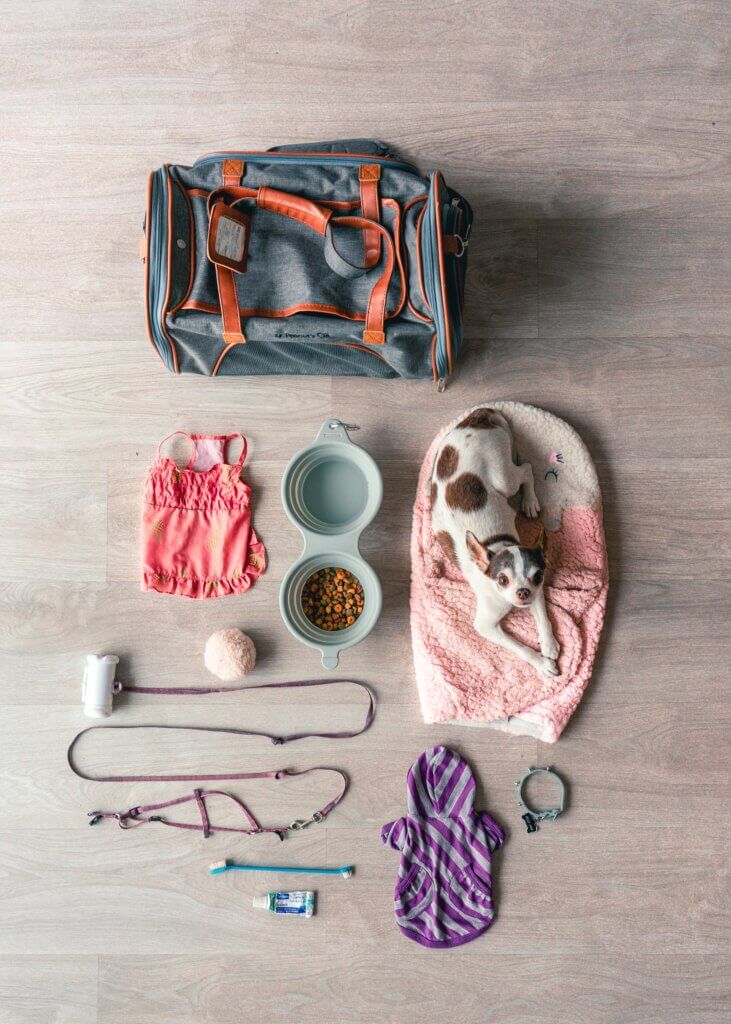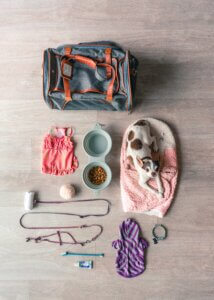 Know What is Nearby
It is a good idea to find out what doggy establishments are near where you are vacationing, such as animal hospitals. In addition, you may want to find out if there are any nice kennels or dog sitters nearby in case you take an excursion that is not dog-friendly while on holiday vacation.
Be Mindful of Dangers in Your New Environment
Any time you take your dog to a new place, you should keep your eye out for any potential dangers – especially if your dog will be allowed to roam. For example, check your relative's home for dangerous house plants and electrical cords.
Work on Basic Commands
Before traveling with your dog, freshen up on the basic commands. You want to be sure your dog knows basic commands (sit, stay, and come) before you take him someplace new with people he doesn't know.
One last tip – Before you head out of town for the holidays, contact Super Scoopers for poop scooping service, so you don't come home to a messy yard.