15 Fun Ways to Exercise with Your Dog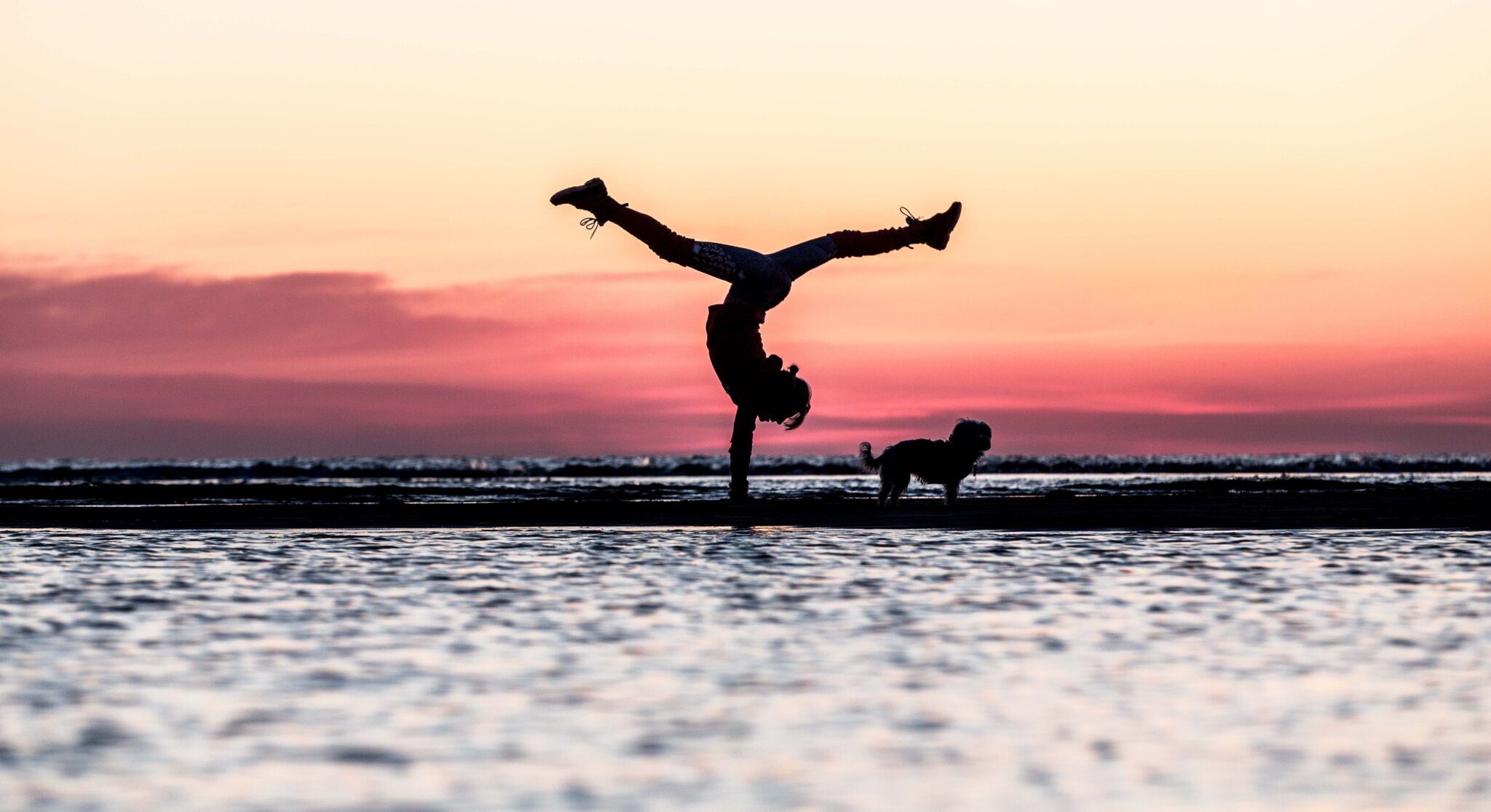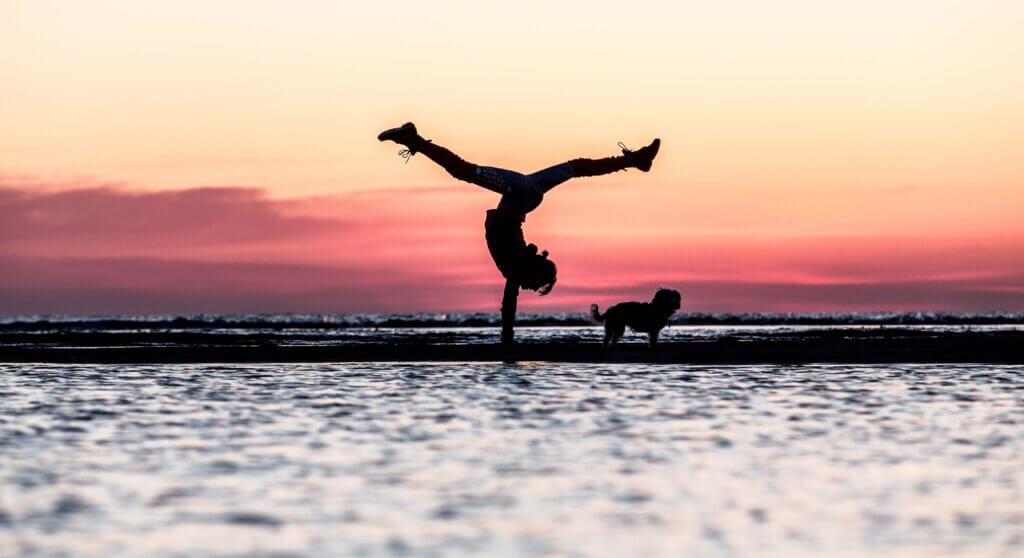 Since you need exercise and your dog needs exercise, why not look for ways to exercise with your dog? It's easier than you think! As man's best friend, your dog will be a great fitness partner.
According to Rover, "In a recent survey, […] 65% of dog parents claimed they're more active with a dog than without and over half (57%) said they're likely to do this exercise with their pup. 43% of dog owners even said their dog is their accountability partner. An impressive 75% went on to say that being active alongside their pup improves their bond!"
It's also good for your dog. WebMD explains, "Up to 50% of dogs in the U.S. weigh too much. Like people, overweight dogs are at risk for health problems, from arthritis to heart disease. This is one challenge you and your pet can face together."
Whether you or your dog need to lose weight or simply want to improve your health, you'll find it is fun and enjoyable to exercise with your dog.
Before you begin to exercise with your dog, there are some things to consider, such as your dog's age and health conditions. For example, puppies need a good deal of exercise, but senior dogs need less. Additionally, your dog's breed greatly influences how much physical activity they need or can handle. For instance, the American Kennel Club (AKC) claims, "High-energy breeds, such as Border Collies and Belgian Malinois, require a lot more exercise than low-energy breeds like the Bulldog or Basset Hound."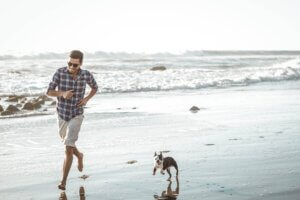 If you have any concerns about your dog's health condition, speak with your veterinarian before you begin to exercise with your dog. Even if your dog seems physically fit, it is wise to build up your exercise regimen slowly. It is also important to pay attention to your dog during and after a workout for any signs of heat exhaustion or other illness.
With that being said, here are 15 fun ways to exercise with your dog.
Hiking
Leash up your dog and take a hike. One of the best things about hiking with your dog is that you can go at the pace that works best for both of you. Plus, you can stop and take breaks as needed. Just be sure to pack a portable water dish.
Swimming
If your dog loves the water, take advantage of swimming as a way to exercise with your dog. This type of exercise is great for humans and dogs because it is easy on their joints.
Fetch
Dogs love to play fetch, but you'll need to make effort to turn this into a physical activity for yourself. One way to do so is to play tennis with your dog. As you hit your tennis ball, your dog will run to get it and bring it back. And you can do it over and over again.
Stair Climbing
Head to an outdoor arena where dogs are welcome and climb the stairs together. It's a great workout overall. However, for this to work, your dog must be big enough and old enough to handle stairs. Stairs are dangerous for puppies or those with arthritis.
Tug of War
Work your muscles by playing a game of tug of war with your dog. Ideally, for this to count as exercise with your dog, your dog needs to be big enough to challenge you.
Running
Many dog owners love to run with their dogs. Not only is it fun, but it also makes them feel safer to have their canine companion with them. However, you shouldn't expect your dog to run a marathon right out of the gate. Instead, slowly build up the length of your runs.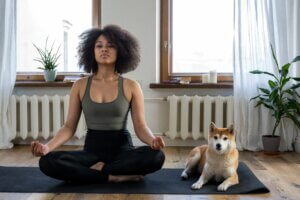 Yoga
Doggy yoga is real, and it is affectionately referred to as doga. According to Fetch by WebMD, "Doga incorporates your pet into Hatha yoga poses. For example, you recline in resting pose with your legs bent over your terrier's torso. Classes are springing up across the country."
Push-Ups
If your dog is the right size, you can exercise with your dog the old-fashioned way. Have your dog stand or lay on your back while you do push-ups.
Walking
Taking your dog on a walk is one of the easiest ways to exercise with your dog. Walking is a great exercise for all dogs – even those with health conditions.
Dancing
Turn on the music and dance around the house. Your dog will love the energy and likely will move around with you without any encouragement. If your dog needs an extra push, try holding his front paws or even holding him as you move to the beat.
Agility Training
Obstacle courses provide more than training for the dog – they are also a great exercise for both of you. According to Dog Lab, "While your dog will be weaving through poles, running through tunnels and jumping over bars, you will need to keep up and issue commands along the way. For many dog owners, agility training quickly becomes more than just a workout."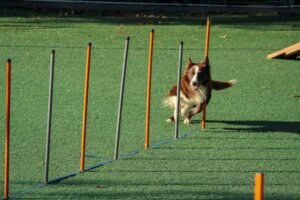 Cycling
Many dog owners have success taking their dogs with them while cycling. However, for this to work, you need to make sure you train your dog to stay on the leash on the correct side of your bicycle.
Paddleboarding
While it doesn't exactly exercise your dog, many dog lovers enjoy taking their dog with them as they go paddleboarding. It is a fun way to bond with your dog while enjoying the great outdoors.
Lifting
Another fun way to exercise with your dog is to use him as part of your lifting workout. Just try lifting your pup while doing curls instead of a barbell. Get creative!
Frisbee
Tossing a frisbee for your dog to catch midair is fun, but it can be even more fun and athletic. Take your game of frisbee up a level by joining a "Disc Dog" team. You'll both have fun exercising and bonding as you compete.
Keep your yard clean for exercising with your pup by scheduling regular scooping services. Contact us today!